Tickets available:Â  https://www.welcometotheartroom.com/eventworkshop/emptybowls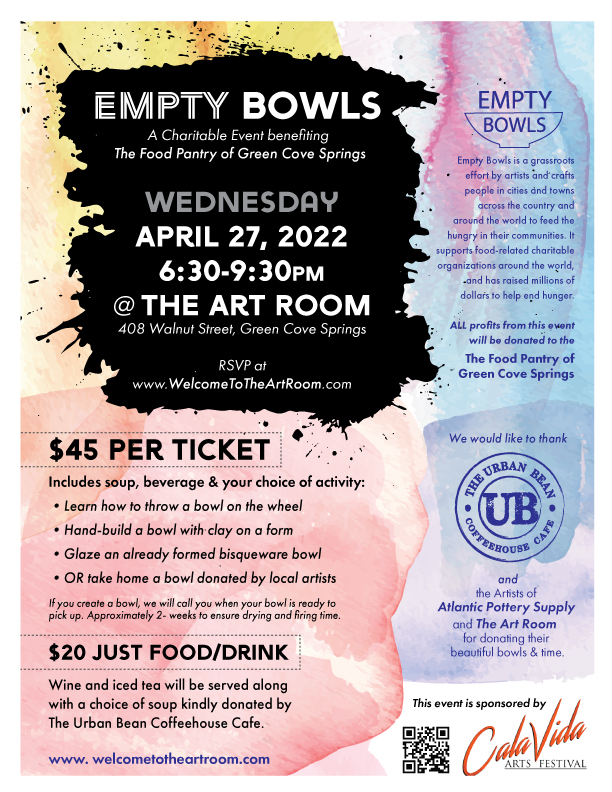 EMPTY BOWLS
A Charitable Event benefiting
The Food Pantry of
Green Cove Springs
Wednesday
April 27, 2022
6:30-9:30pm
@ The Art Room
408 Walnut Street, Green Cove Springs
Please register by April 22, 2022
$45 per ticket
Includes soup, beverage & your choice of activity:
•Learn how to throw a bowl on the wheel
•Hand-build a bowl with clay on a form
•Glaze an already formed bisqueware bowl
•OR take home a bowl donated by local artists
If you create a bowl, we will call you when your bowl is ready to
pick up. Approximately 2- weeks to ensure drying and firing time.
Creating time is approximately one hour. Please choose 7pm or 8pm time slots for wheel or hand building tickets. Instruction time will begin at your designated time. If you miss your time slot you may have to wait until the next time slot if there is a spot. If no spots are available you will be able to glaze a bisque ware bowl. Glazing bowls can happen at any point during the evening and will take about 30-45 minutes.
$20 just food/drink ticket
Wine and iced tea will be served along with
Soup kindly donated by The Urban Bean Coffeehouse & Cafe
This Event is sponsored by CalaVida Arts Festival
Empty Bowls – Green Cove Springs