The bowl's story:
This is one of a thousand that we plan on making this year. This one was glazed with one of David Johnson's magic glazes. Dave owns and operates the Bear Hollow Pottery in Pineville, MO.  Our soup event that was originally scheduled for the week before Thanksgiving, November 18th, has been cancelled , due to the Coronavirus. So we will be only selling the bowls that we created online through the website and also at the Wishing Springs Art Gallery, when we get it back open.
Benton County Empty Bowls story, the long version:
David Johnson, a local potter, is on the Board of Directors of the Village Art Club, Inc., aka Artisan Alliance of Wishing Springs. The club owns and operates the Wishing Springs Art Gallery in Benton Count, Arkansas. Artwork and handmade crafts produced by members are displayed and sold there. The VAC also sponsors the Bella Vista Arts & Crafts Festival held during October every year. However, this year's has been canceled due to the virus. The festival can have as many as 150 exhibitor/vendors selling their handmade creations. No commercially purchased items are allowed, everything must be made by the exhibitor.
This past year, 2019, David got an idea on how to better use a seperate building, located behind the art gallery. THe building had been used by members as a meeting place and to hold a few art classes. One of David's pottery friends was moving from Joplin, MO to Bella Vista and closing up her pottery studio in Joplin. He convinced the VAC to accept a generous offer, by his friend, Heather Grills. The offer was a donation of the equipment from her pottery studio. David's idea was to turn that building into what is now called The Clay Studio, where handbuilt and wheel clay classes are taught. The Studio usage is only available to it's students, of all ages. The Studio opened in May of 2019, and had become profitable, before the virus forced us to close temporarily.
In June of 2019, David, inspired by the Empty Bowls worldwide effort, convinced some of the other members to help in creating bowls to raise funds to help the food insecure in Benton County. the Benton County Empty Bowls, 501(c)(3) charitable organization was formed. Formed by David Johnson, Heather Grills and myself, Phillip Calkins. With the help of VAC members, Clay Studio student/monitors roughly 8 people, we created  and sold just under 500 bowls. we raised and passed on to the Northwest Arkansas Food Bank $10,030.12. Not too bad for our first year.
Our success in 2019, made us want to double our efforts for 2020. We have a target of 1,000 bowls and raising more than $20,000 to fight hunger in NW Arkansas. Because of the virus, we have canceled the event for this year, but not our enthusiasm. We are in the process, as I type this, of creating our own website to make our bowls available nationwide. I found a website designer that is donating her knowledge and time to help us create the website. We will also be selling some bowls through a couple of physical venues when they open, again due to the virus. This year, 2020, is definitely a challenge, which only means that our efforts and contributions are more greatly needed.
As I stated before, David and Heather, each have long and successful careers in pottery, I on the other hand never touched clay before June 2019. I enrolled in a class at The Clay Studio in order to make my own bonsai pots. Creating bonsai's is a hobby of mine. I am a retired CPA and my financial, tax, computer, creative skills fit right in to helping this effort of Empty Bowls.
I have attached a photo of Heather, the redhead, presenting a mockup of the check to the Northwest Arkansas Food Bank, from last year's successful effort.
Thank you for the stamp, you had already sent me one. I should have asked for the one with 2020 on it. In the future we will get one with the year, so people can keep track.
Thanks again.
Phil Calkins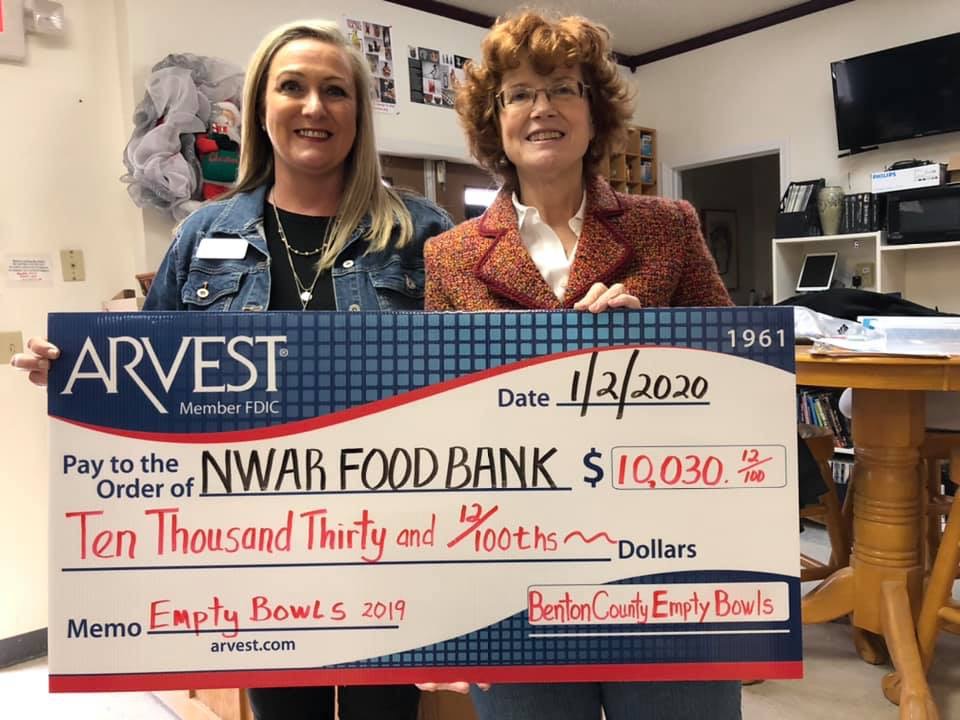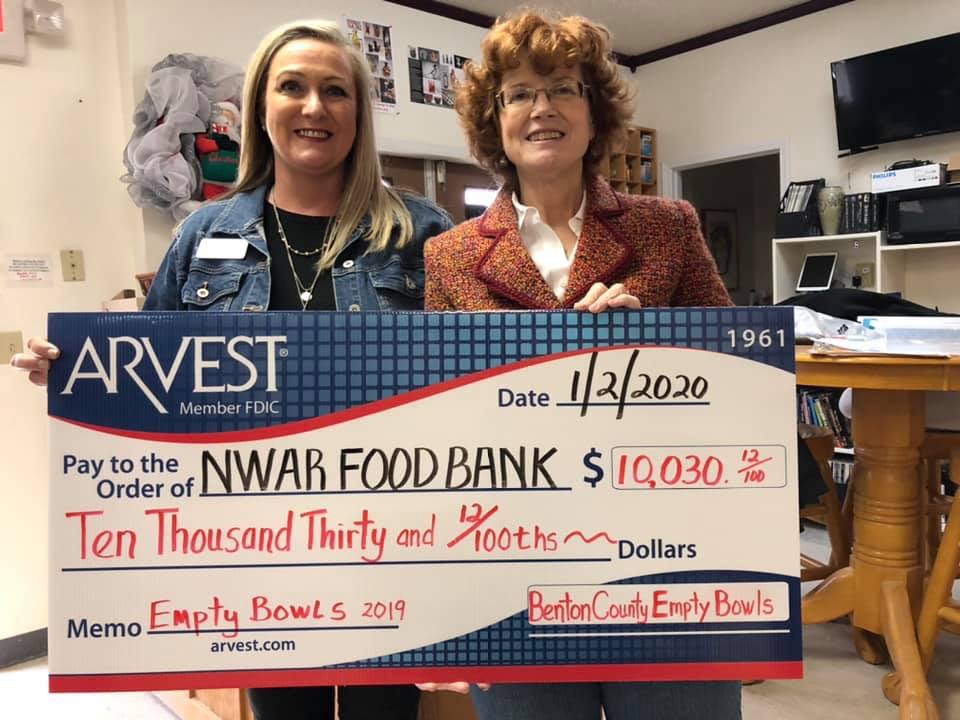 Benton County Empty Bowls